Santorini - The Romantic Vacation
Santorini Overview
The special half moon shape is a result of a volcano eruption. The volcano is called Caldera.
On the west side, the "caldera side", you'll find high cliffs, fantastic view, and the best sunsets in the world. The white houses villages are located there, such as Oia, Fira and Imerovigely.
The east side has popular beach villages, such as Perisia, Kamari and Privolus. This is the place for Greek food, seashore hotels, and bars.
In the south there are several beaches of wild and unique nature. 
Fira
Fira is a live city, one huge market for tourists.  The narrow streets are crowded with shops of cloths, souvenirs, accessories, restaurants, bars, and lots of people.  The atmosphere is fun, but the prices are quite expensive.
A recommended dance bar is Murphy's, right in the city center (near McDonald's).
Fira sits on a high cliff, viewing over the magnificent Calendra. Fira's old port is at the bottom of the cliff, and boat cruises sail from there.  Reaching the old port can be via a long road with many steps (around 20 minutes walk).  The walk is quite slow, because you need to find your way between hundreds of donkeys, and also pay attention not to step on what they left behind… Climbing back to the city from the port can be on a donkey's back or in a cable car. It's 6 Euros either way.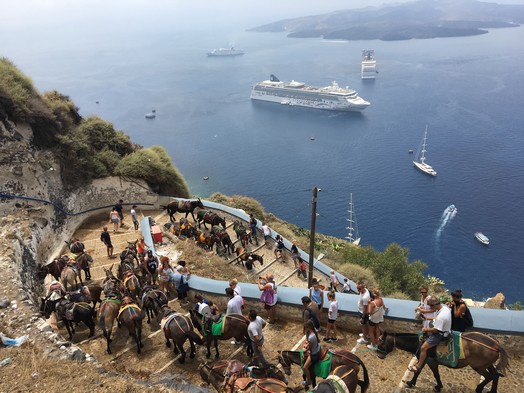 Food in Fira
Fira is loaded with restaurants and taverns. Some has great views and some less, and the price is accordingly. The menu is usually quite standard, and answers the desire of the average tourist.
Fast food restaurants of sushi, Chinese, ice cream, pizza, Suflaki and Gyros, can be found in Fira Square – a small area close the central bus station.
An Indian restaurant at the city entrance is called Jaipur Palace. It offers tasty authentic Indian food. This restaurant is recommended for vegetarians, or for anyone who like Indian food.  Please note that even a mild dish in the menu is very spicy. 
A Greek restaurant with sea food and the best Tsiziki ever is Theoni's.
A great Italian restaurant is called Character.
Volcano and Hot Springs
There are many alternative for a sailing trip.  The basic tour takes three hours, and includes a swim at the hot springs place and a walk in a volcano island. There are also sails visiting the island Thersia, then watching sunset in Oia on the shore, and going back with a bus. A meal on board will be extra fee, and a romantic sunset on board with a glass of wine is also a possible alternative. You cannot really make a mistake in any option you choose – all are great fun.
It is recommended to have good walking shoes for the volcano, because the hike there is rather long – about 25 minutes of climbing the mountain. Walking sandals would do the job – the ground is not really hot as the agencies say. It is important to bring enough drinking water, especially in hot days.
Swimming in the hot springs is a very freshening experience. The boat stops about 50 meters off shore, and the passengers jump into the deep water, and swim to shore. Near the boat the water is cold, but close to the shore there are warm water. Pay attention to wear dark colored bathing suit, because the water at the hot springs are rusted and red, and a white cloth will be colored forever. Also jewelry is not recommended at the hot springs.
There are several agencies and boats offering the same type of trip. There are boats at Fira old port, and Amudi port and at Atinos port. The most convenient way would be to book a tour at the hotel or an agency near by. Such booking will often include also a ride from your room to the port and back. Another option is to reach Fira and book a sailing trip in the travel agency Dakotos near Fira's central bus station. They offer trips in authentic wooden boats.  You buy tickets and then walk down (or take the cable car) to the old Fira port.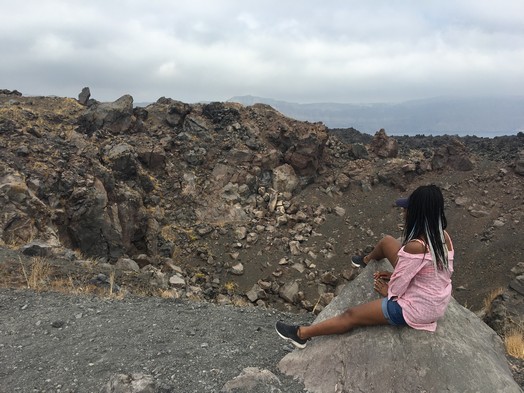 Imerovigly
A little village with many accommodation places in the Greek white houses style. There are a few good restaurants and some supermarkets on the main road, but there are no shops and lively center like Fira or Oia.
A short hike leads from Imerovigly to an extraordinary rock, Skaros rock. There track goes downhill, then uphill, but overall it is not a hard walk. It takes no more than an hour. You may watch the sunset at the rock's bottom or climb up to the peak. The last part of the climb is a 3 meters old brick wall, with enough places to hold and step, but still it requires a certain physical ability. You may see it in the below picture.
Avocado restaurant in Imrovigly is highly recommended. It is advisable to book a place in advance, or otherwise there may be quite a long wait. The restaurant radiates high quality and the menu is unique and delicious. There are also vegetarian dishes.
Oia
The most famous village in Santorini. It is also the most expensive one… The houses are the Greek white houses style. Thousands of people arrive each afternoon to watch the sunset here, and create a unique experience, which is not necessarily the sun… Accommodation can be extremely expensive, as much as 5000 Euros per night.  The center of Oia is one long street with shops and restaurants, and around it are the narrow streets of white houses. The most popular place to watch the sunset is the fortress at the west of the village. People arrive even two hours before the sunset time, just to find a good spot. It is not really necessary though, because eventually all spots get very crowded…
Amudi bay is just under Oia, with a path of 220 steps. It is not recommended to drive there by car, because the road is very narrow, and there are very few parking places. The Amudi port is magical and romantic, with great fish restaurants. Going down the steps is not too hard, but going up is surely another story. It is possible to climb up on the back of a donkey, or otherwise ask the restaurant to order a place in a shuttle car for you.
Food in Oia
The most famous restaurant in Oia is called 1800.  Make sure to reserve a place in advance. A good restaurant in Oia for Gyros and Suflaki is called Pito Gyros. 
An authentic, tasty and quiet restaurant is called Karma.
A few minutes drive off Oia, there is a great meat restaurant called Karma.
For a late hour entertainment with live music, you may visit Potamos.
Santorini Beaches
Kamari Beach
A touristic beach with a long walkway, and many restaurants, taverns and shops. The sea shore has black sand, and you may rent a chair and a sunshade. A relaxed atmosphere and a lot of places to eat. The sea itself is rather rocky, so it's not comfortable to get into. However, at the end of the walkway, near the hill, there is a more sandy beach. The place is also great fun at evening time.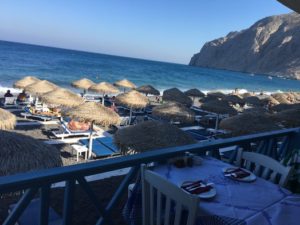 Perissa Beach and Perivolos Beach
These two beaches are one near the other, both with black sand.  A pleasant place for food, music, small shops, and water sport. There are less restaurants here than in Kamari, but the sea has less stones, so easier to walk into. The atmosphere is less touristic organized than Kamari. Of all Santori's beaches, this is the best place for young people to hang out. The north side, Perissa, has more shops and food places than the Perivolos at the south.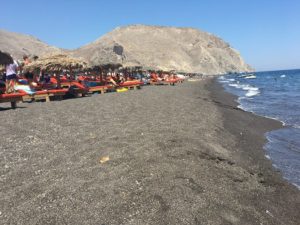 The Red Beach
This is undoubtedly the most unique beach in Santorini.  But it is also the most crowded one… The car parking is at the end of leading road,  east of the red beach. It is not easy to find an available parking spot in July-August.  The walk to the beach itself is a 500 meters trail. Another option to park the car, and much less known, is at the chapel of Agios Nikolaos.  It sits on the mountain above the red beach, and then there is a few hundred meters trail going down.  The red beach is a magnification bay with high red rocks surrounding it.  This is why hundreds of people arrive every day to visit. There are only a few chairs and sunshades, so be prepared, especially in a hot day at summer. There is an option to take a boat trip to the white beach near by. The boat arrives to the red beach every 30 minutes.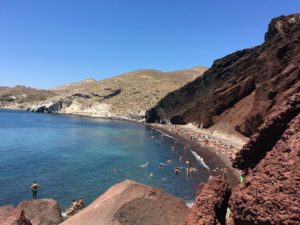 Vilchada Beach (a white beach) 
A relaxing beach at the south of Santorini. It has white sand and rocky white cliffs taking interesting shapes.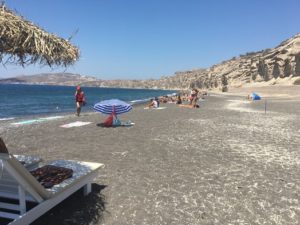 Columbo Beach 
This beach is at the north side of Santorini, just below a huge rocky cliff. It is not organized with chairs and facilities, and therefore relatively empty. This wild beach is the perfect way to get a bit away from the crowd.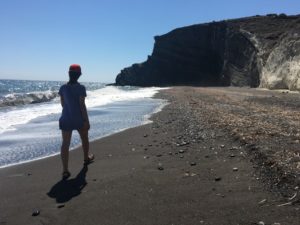 Monolithos Beach
A friendly beach for families and children. There are big areas of sand on the beach, and also areas of sandy shallow water. This beach does not have the groove of Kamari or Perissa, and besides the families with small children, there is no reason to visit it. 
Ammoudi Bay
Ammoudi is ten minutes down the stairs from Oia village. This is not really a beach, but more a place to swim besides the black rocks. There is also a rock inside the sea you can swim to and climb on. A popular and really good seafood restaurant is called Sunset. If you want a table at the front near the water, make sure you reserve in advance.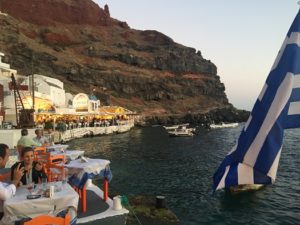 These are the main beaches, but there are many more. All around the island you may find places with chairs, shades, and maybe a small booth selling food.
Flying or Sailing to Santorini 
Direct Flight would usually be the fastest and more convenient way to arrive, but may also be expensive.  So search and compare the net for your best alternative.
Connection flight from Athens can be rather cheap, especially if you choose low-cost flights. You'll need to search and examine the connection hours, which may not always be convenient.
A fairy from Pireas port. The fairy sails twice a day – morning and afternoon. If you arrive to Athens at evening or night time, then you may have no choice but spend the night in the airport or take a hotel for one night.  There is a slow fairy which takes 8 hours, or a fast fairy which covers the way in 5 hours. The faster fairy is also more expensive. As for the trip itself, the slow fairy has decks and places to wonder around and watch the sea.  There is also a place to eat. In the fast fairy, the trip is more annoying as you need to mostly sit in your chair.
A fairy from Crete to Santorini. The fairy sails in the morning, so here also you may need to spend one night in Crete. The port area is a nice place to visit in the evening, so it may be another good experience for your overall trip. The fairy is a fast fairy, and it sails about 2 hours to reach Santorini.
The way back also needs planning. Note it may be a different way or different vendor when going back home.
Santorini Hotels and Accommodation
There are many alternatives for accommodation in Santorini. You may stay in the a Greek white house with the astonishing view of the caldera, you may stay in a hotel near the sea and close to many great taverns, or you may stay at some spot far from the crowd, near the sea or with a sea view.  Everything is wonderful, and different people prefer different things.
White Houses Accomodation
Accommodation in hotels, pensions or flats in the white house is usually expensive and high class. Obviously a private pool with a view makes the price even higher. The white houses are close to each other, but still, there is enough feeling of privacy.  Every person gets his private room with his small private balcony. Reaching the place usually involves a walk in very narrow streets, but help with the suitcases is usually available. Oia is the most expensive. Imerovigly offers accommodation similar to Oia, but prices are much cheaper. Also Fira is a good option. This type of accommodation is recommended for those seeking relaxation, romance, quiet, and mostly a breathtaking view.
So how do you choose?
Price is usually the first parameter, because some place are very (!) expensive. Start searching and filtering price range in booking.com.  Oia is the most expensive, but you don't really have to stay there. Visiting once and experiencing the sunset magic times is quite enough. During the season Oia is actually too crowded…
White houses recommendations:
A flat with an amazing caldera view, and in decent prices, is Annio Flats in Imerovigly. The room includes a kitchen with accessories, it is very romantic and clean, and also includes a priceless view of the caldera and Skali Rock. Here is the view from the balcony: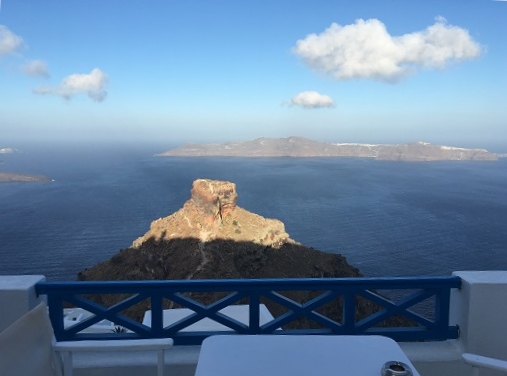 For those who prefer to stay in Fira, close to the center of everything, Nomikos Villas would be a great option with decent prices and amazing view.
Another option with a decent price, north of Imerovigly – Gizis Hotel. This hotel sits on a cliff over the extraordinary caldera view, easy access (unlike most places) and a balcony with a pool or Jacuzzi.
If you are aiming high, and you are willing to pay the price, then consider Dana Villas close to Fira. There is a high demand for this place, so booking should be made many months in advance.  
You should also consider Pegasus Hotel with its view and pools.
Chromata is a perfect hotel also, for those who are willing to pay for luxury.
Rocabella is another place of high class, and Cavotagoo near it is even more exclusive.  By the way, Cavotagoo has a restaurant which you may visit without staying in the hotel. The restaurant prices are quite high, but you get a free entrance to the pool including towels, and the sunset is magnificent.
Accomodation near the touristic beaches
Staying in Kamari, Perissa, or perivolos would suit people who seek a bit more action. Even here, Santorini is a calm island. This is not the place for party lovers and dancing nights.  Staying near the sea is good for your soul, everyone loves taverns and good food, and the atmosphere is relaxing.
A great hotel in Perissa, near the sea shore, with a balcony and a pool, is Veggera.
Another good place near the sea, with calm atmosphere and good restaurant is Kamari Beach Hotel.
A popular five star hotel is called Hotel 9 Muses Santorini Resort. The hotel is excellent for those seeking this type of accomodation, even though the wifi is too weak. Important to know that the beach is 400 meters away, so there is a bit of a walk to get there.  
Santori also offers alternative for those seeking quiet placed away from the crowded cities, and wants to stay close to the sea. But for these kind of places, a car is a must.  One recommended place of this type is Almyra Studios & Apartments. It offers flat just 20 meters from the sea. The two bedroom flats are preferred over the studio apartments, because they face the sea. There is one on the ground and one on the roof, and both are great. Almyra's location is special, because you may enjoy both the sunset and the sunrise there, and they are both very romantic. The beach across the hotel is perfect for swimming, but if you wish for a chair and shade, you'll find Bassada beach 100 meters to the west. A 20 minutes walk east from Almyra would lead to the very special Columbo beach. Here is the sunset from Almyra: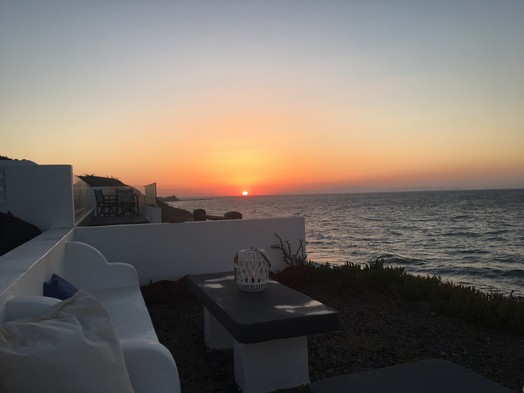 Staying in South Santorini 
Tourists visit the south mainly to see the red beach and Acrotiri ruins, but they usually don't stay there.  This is maybe an oppertunity to get away from the main cities, and find a little bit of Greek authenticity. The prices here are also much cheaper than Oia for example.
Hotel Caldera View Resort near Acrotiri is a good offer for the price. The pool is pleasant and the atmosphere is quiet and relaxing.  For those staying here, a car is a must. The rooms are small and simple, and breakfast is good.
Astarte Suits is a higher class of accommodation, offering a great room with fantastic view, ideal for a romantic vacation or honeymoon.
Tansportation
Car rental
It is advisable to book a car in advance, to ensure you find the car you want.  You may compare prices in rentalcars.com. The reservation includes basic insurance. The car will wait at the Santorini airport. It is convinient and also saves the cab fee to the hotel. Automatic gear is not popular in Europe, and the price is higher. If you need automatic gear, make sure to reserve in advance. A small car is all you need, because the island is small and the roads are narrow.
If you plan to rent a car in one of Santorini agencies, you may find these at the big cities or via the hotel.  Another popular option is renting a scooter or a 3-wheeler.  You may get helmets there, even though most people don't use them…
Public Transportation
Fira is the center and every bus route goes to Fira or from Fira. For example, to go from Kamari to Oia, you would need to one bus to Fira, and a second bus to Oia. The buses leave the central station every 20 minutes during day time and every 30 minutes during the evening. In the high touristic season, the ride is very crowded, and many people don't have a chair to sit. But the drives are short, so standing is durable. You don't need to buy a ticket in advance, and boarding the bus is without a ticket.  During the ride, a person walks between the passengers, and sells tickets. It's important to keep the ticket the whole ride for review. Buses are significantely cheaper than renting a car, and with a little patience it is not a problem to reach the main attractions.  For the buses schedule, click here.
Taxi is also an option, but it is very expensive, and there are not many taxi cars around.
Cellular
Most restaurants and hotels have wifi, so you may get along well without 4G ability.
As for car navigation, 'waze' works well here. There are also some offline navigation applications, which will take you to your destination easily. Google Maps is the most popular, but 'here' and 'maps.me' are also great.
For navigation in the streets, by foot, maps.me is the best. It will also show restaurants and accommodation.
Shopping in Santorini
Santorini is not the place for cheap bargains or brands. On the other hand, the narrow and artistic streets of Fira would give a memorable shopping experience. The place is lively and crowded, with many small shops of cloths, souvenirs, sandals, accessories, jewelry and more. 
The main street of Oia has also many shops, but it is more expensive there. Kamari and Perissa has some small shops with cloths and souvenirs. Imerovigly has only one souvenir shop, and therefore the price there is almost double.